RobinHoodCookware is owned and operated by RobinHoodCookware.com. RobinHoodCookware is a participant in the Amazon Services LLC Associates Program, an affiliate advertising program designed to provide a means for sites to earn advertising fees by advertising and linking to Amazon.com. RobinHoodCookware also participates in affiliate programs with Avantlink, Impact, CJ, ShareASale, and other sites. RobinHoodCookware is compensated for referring traffic and business to these companies.
I found that the best carbon steel pan to use when cooking eggs is either the Vollrath line of pans or the Matfer Bourgeat pans. I have been using both of these pans for months now and have found them to be perfect for making eggs.
My Vollrath pan:
is light in weight
has the perfect angle on the sides for flipping eggs
has a long handle
uses welds to attached handle
is very easy to clean with no rivets attaching the handle
is inexpensive
easy to season
made in the USA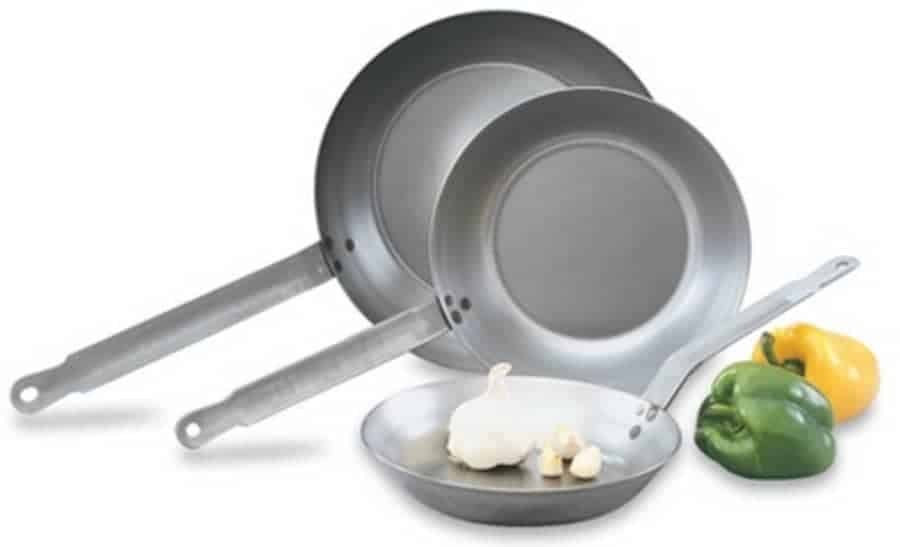 My Matfer Bourgeat Pan:
is heavier that the Vollrath pan
the sides of the pan are slopped-perfect for flipping eggs
short handle
stores easily in the oven because the handle is short
uses welds, like the Vollrath pan, for attaching the handle
slightly more expensive than the Vollrath pan, but it won't break the bank!
very easy to clean
made in France
[amalinkspro type="showcase" asin="B002ONP7UY" apilink="https://www.amazon.com/dp/B002ONP7UY?tag=rhood09-20&linkCode=osi&th=1&psc=1″ new-window="true" addtocart="false" nofollow="true" sc-id="4″ img-sizes="500:500″ imgs="https://m.media-amazon.com/images/I/31jUMdcT5AL._SL500_.jpg" link-imgs="false" specs="Diameter: 11-7/8~~~Height: 2-1/8~~~Weight: 4.7 lbs~~~Capacity: 6 lbs~~~Material: Black steel" btn-color="#ff9900″ btn-text="Buy on Amazon" alignment="alignnone" hide-prime="0″ hide-image="0″ hide-price="0″ hide-button="0″ width="768″]Matfer Bourgeat 11-7/8″ Round Frying Pan w/Iron Handle[/amalinkspro]
I really like cooking with this pan because there are no bumps where the rivets attach, making it very easy to clean. I found that the weight distribution and thickness of the carbon steel sides somehow create a personal symbiotic relationship with this pan. You can buy this great pan at Amazon.
Every time I pick up this pan to start cooking it is like experiencing a great cooking event all over again. Cooking with carbon steel pans is easy with the Vollrath French-style carbon steel cookware.
This carbon steel fry pan is perfect for frying, sauteing, searing, scrambling, and more!
Carbon steel is an excellent conductor of heat, making it a favorite for high-temperature cooking.
Once seasoned, this French-style fry pan distributes heat evenly for a fast, uniform cook. It's ideal for any home or commercial kitchen!
Classic French Style
This French-style pan features tall curved sidewalls that are designed for easy stirring and sliding food out for plating, while also helping to prevent steam from forming inside the pan.
Additionally, its wide, flat bottom offers an ample cooking area to increase efficiency and output.
If you are into induction cooking, then this is a "must-have" pan for that task. Take a quick look at Amazon for the latest in induction counter-top units. Induction cooking is fast, safe, and clean and offers an alternative to a hot plate for when guests come over and you run out of cooking top space.
This pan is a perfect size and all-around useful pan. Material and construction quality is good. Heats fast and evenly.
The handle is mounted securely to the pan and has no crevices for food or carbon buildup to acquire. This makes cleaning this pan a breeze.
About Vollrath
The Jacob J. Vollrath Manufacturing Company was founded in 1884 in Sheboygan, WI. After running a successful cast steel manufacturing company, Jacob expanded his production to kitchen utensils.
In 100+ years, The Vollrath Company has greatly expanded but never lost the values of the small, high-quality manufacturing company that it was born from. Vollrath takes your business as seriously as they take their own.
They truly understand how the durability of their product impacts the success of your business. Check Amazon for the latest Vollrath Products.
Why Use a Vollrath Carbon Steel Pan?
I was looking for a carbon steel pan that would be perfect for making eggs. I needed a pan that had perfectly sloped sides and where the metal was of medium thickness.
This thin thickness is perfect for frying eggs inasmuch as the temperature can be controlled easily by moving the pan on and off of the stove burners.
I already had several larger carbon steel pans by de Buyer, and Matfer Bourgeat so I bought a smaller Vollrath skillet to add to my arsenal of carbon steel pans. I chose the 8 1/2 inch Vollrath Model 58900 pan as shown here:
I picked the Vollrath Model 58900 pan because it was small (8 1/2 inches) and had the following features:
It is made of carbon steel which conducts heat fast and evenly
It has a classic French style even though it is made in the USA
It has a permanently welded balanced handle for a perfectly smooth interior
The handle is long which helps to keep the heat away from your hands
It was also safe for use in my oven or under a broiler
Curved sides was a plus
This pan can sear meat and fish beautifully like cast iron but with a lot less weight
It was relatively lighter in weight than my other carbon steel pans
This pan can easily store in my oven between the racks
Classic French style
Wide, flat bottom for a large cooking surface
It has a hanging hole for easy storage
Induction ready
These Vollrath pans are used in commercial kitchens throughout the world
Vollrath pans and skillets are reasonably inexpensive and there is a Vollrath pan for every budget
Here are some of the steps I took when I first took delivery of my Vollrath pan.
Unpacking My Vollrath Carbon Steel Pan
The pan was shipped in a very sturdy box with large bubble wrap to protect it. Inside I pulled the pan out and it was wrapped in a plastic bag with what appeared to have some kind of oil coating on the inside. This oil coating was to keep the pan from rusting and tarnishing during shipping.
All carbon steel cookware will rust if not properly coated with a light coat of cooking oil or beeswax.
First Impressions of my New Vollrath Carbon Steel Pan
I really liked the feel of this pan. The weight distribution was perfect. If you are a small person and cannot handle the weight of other carbon steel pans, then this might be the pan for you.
Since I usually cook for myself this 8 1/2 inch pan was just the ticket. The really nice thing about the Vollrath company is that they have many sizes and styles of carbon steel pans. So, if you have two or 10 people in your family, there is a pan or skillet made especially for you. Of course, if you are a family of ONE, you can use the 8 1/2 inch like I did.
After I unpacked the pan and removed it from the plastic bag I began to describe the pan above. The next step was to remove the oil that was applied to the pan for shipping. This oil has to be removed from the inside and outside of the pan before the seasoning process begins.
Seasoning your Vollrath Carbon Steel Skillet/Pan
To season my carbon steel pan I gathered these ingredients:
Kosher Salt
Grapeseed Oil
Potato peelings from about 8-10 potatoes
To prevent the crazing of my stove again I moved my seasoning process outside on my grill.
After I washed the oil off of my pan, I dried it completely.
I coated the bottom and sides of the pan with a light coating of grapeseed oil.
I then added the potato skins, grapeseed oil, and Kosher salt to my pan. I turned the heat on high. I kept moving the contents of this mixture up the sides of the pan so that all internal parts of the pan were covered. Once the potato skins became crispy I removed the pan from the heat and emptied the pan's contents.
I then repeated this process for one more application of this seasoning method. When this second seasoning application was complete I washed the pan out with water and dried it thoroughly.
Once this process was completed the pan turned a light brown color. The bottom of the pan turned to a darker color than the inside of the pan. This change in color is normal and the more you use this pan, the darker it will get. This darkening of the pan will help the pan to become more non-stick as time passes.
What the Heck is Crazing and Why Should I Care?

Below is what can happen if you try to season your pan on your oven and use the flaxseed oil method. This is what happened to my stove. You cannot repair this, the stovetop has to be replaced which can be expensive. This is why you should care and not repeat what happened to my stove.
If you decide to season your carbon steel pan, I would advise that you do it outside on a grill for two reasons. Firstly, the fumes can be overwhelming, and secondly, I ruined my stovetop by the high temperatures that it took to season this pan.
The dark spots on the white enamel are called enamel crazing which is caused by the expansion and contraction of enameled metal surfaces by high heat. Look what I did to my stovetop below.
Here is some additional information about crazing from Wikipedia for those that want to dig deeper into the phenomena.
Crazing is the phenomenon that produces a network of fine cracks on the surface of a material, for example in a glaze layer. Crazing frequently precedes fracture in some glassy thermoplastic polymers. As it only takes place under tensile stress, the plane of the crazing corresponds to the stress direction. The effect is visibly distinguishable from other types of fine cracking because the crazing region has different refractive indices from the surrounding material. Crazing occurs in regions of high hydrostatic tension, or in regions of very localized yielding, which leads to the formation of interpenetrating microvoids and small fibrils. If an applied tensile load is sufficient, these bridges elongate and break, causing the microvoids to grow and coalesce; as microvoids coalesce, cracks begin to form.
Pan after it has been seasoned and cleaned
How to Cook Eggs in a Vollrath Carbon Steel Pan
Measurements
This 8 1/2 inch model of my Vollrath pan had the following measurements. The measurements that I took during the shooting of the video below are not correct. The printed measurements are correct.
The handle was 8 1/8 inches long and was spot welded to the side of the pan.
The width of the handle was 1 1/16 inches wide.
The hole in the handle was 3/8 of an inch, more than adequate for hanging this pan.
The tip of the handle was 4 7/8 inches high from the countertop.
The side of the pan itself was 1 11/16 inches high.
The circumference of the pan was 8 5/8 inches.
The inside flat cooking area of this pan was 5 3/4 inches.
16 gauge
This pan thickness is 1.6mm or 0.0630 inches.
The 4 7/8 inch height of the handle makes this pan easy to store in your stove between the oven racks.
OOPS- Forgot the Potatoes
After I finished frying my first egg after re-seasoning, I looked over and saw all those potatoes that I peeled for the potato skins for the carbon steel seasoning. Since I could not let those potatoes go to waste (I hate wasting food), I decided to fry some small potatoes. I added butter and a teaspoon of coconut oil and kept the heat around a level of two (2) on my gas range.
After a few minutes my potatoes looked great. They tasted great also.
There Are Many Sizes and Shapes of Vollrath Pans to Choose From
The size of pan or skillet you are considering depends on:
The number of people you are cooking for
The type of food you will be cooking
The amount of storage space you have allocated to store your cookware
If you are going to be cooking for one or two people and only use your pan for your breakfast eggs, peppers, potatoes, or vegetables then I would recommend that you take a look at the Vollrath pan I purchased. Here is a link to Amazon that will show you the most current price and availability on this 8 1/2 inch pan by Vollrath Model 58900.
Sometimes I cook for several people and I use a larger Vollrath pan but still use my 8 1/2 inch pan for smaller cooking jobs. This 8 1/2 inch pan is just a handy pan to have in your arsenal of cookware. You will find many uses for it in your kitchen.
If you are cooking dishes for only two people then this 8 1/2 inch Vollrath pan mentioned above just might be the trick.
If you have limited space in your oven or kitchen then you might consider taking a further look into this pan.
Here are a few more pans or skillets that Vollrath offers. They are worth the time to take a look at and read the reviews. A lot of Vollrath pans are used commercially. This testifies to the fact that they can withstand the abuse commercial kitchens throw at them. If you use the larger Vollrath pans they may warp a little in the center of the pan. This probably won't affect you unless you have an electric coil stove. I can attest to the fact that these pans are tough, light in weight, and will do the job you require. I love these pans!
Here are a few other Vollrath Carbon Steel Pans
Whatever the pan you choose, I am sure that you will be happy with your selection. These are great pans and if you have any comments about these pans or how to season them let me know in the comments section below.
This French-style pan features tall curved sidewalls that are designed for easy stirring and sliding food out for plating These curved walls also help to prevent steam from forming inside the pan.
As a final note, I would like to say that I tried the Vollrath method of seasoning and it did not work out too well for me. I chose to use the oil, potato skin, and salt method of seasoning. Since I have used this method, I have never had problems with food sticking to the bottom of my pan. In addition, the black seasoning that you get with the Vollrath method of seasoning does not come off in my method because there is nothing to come off. You can find the method of seasoning I use here.
I am not saying that the method I like to season a carbon steel pan or skillet is the only way to season. The method I use just works. It will work on any brand of carbon steel pans and is not just exclusive to Vollrath. Give it a try!
Thank you for watching and reading this post about Vollrath pans. I hope this post has been of some value to you.